Two Common Types of Elbow Pain Treated by our Birmingham Chiropractor
Tennis and golf are two sports beloved by professionals and amateurs of all ages -- but the painful overuse injuries they can cause may have you avoiding both activities. These forms of tendon damage may also occur in everyone from writers and computer users to musicians and laborers. If you're suffering from debilitating elbow pain, you'll want to know about natural, non-surgical solutions that can restore your functionality and help you feel better without pharmaceutical help. We're proud to offer these conservative care options here at Back On Track Chiropractic & Wellness Center.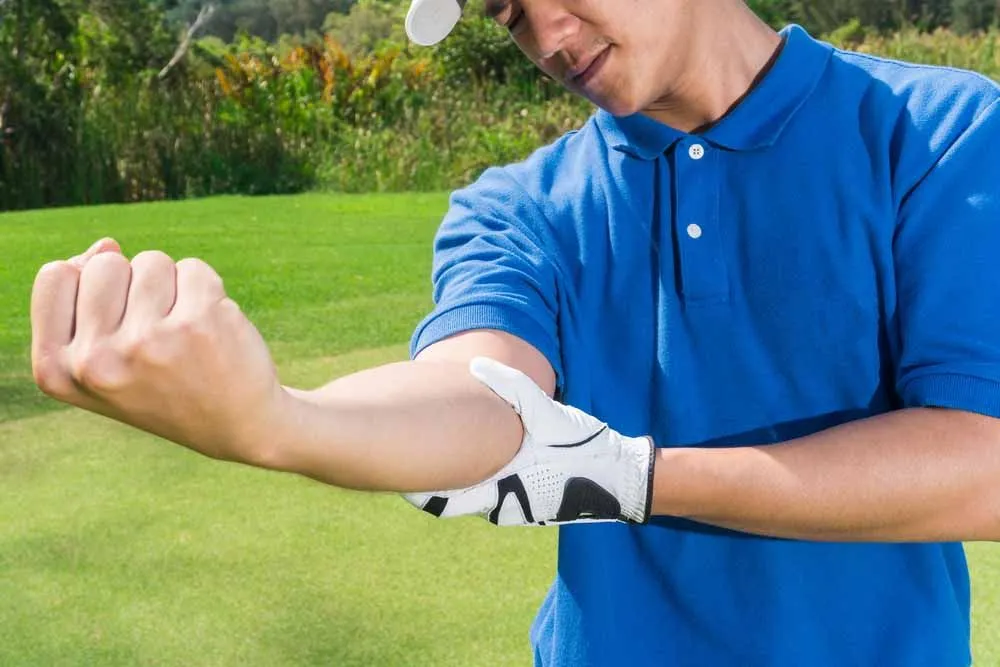 Tennis Elbow vs. Golfer's Elbow
Tennis elbow and golfer's elbow are somewhat similar in terms of the damage done, but the location of the injury site differs. Tennis elbow (lateral epicondylitis) is a problem that occurs in the tendon that attached to the outside of the elbow, while golfer's elbow (medial epicondylitis) afflicts the tendon that attaches to the inner side of the elbow.
Both conditions are considered overuse injuries, the long-term result of repetitive motion strain in the swinging motions required by their respective sports. It's worth noting, however, that you don't have to be either a tennis player or a golfer to come down with these disabling issues; similar repetitive actions in any work or sports activity can produce similar results.
Tennis elbow starts with repeated stress on the extensor carpi radialis brevis muscle in the forearm, while golfer's elbow stresses the wrist flexor muscles. As you ask these muscles to do more work than they can handle over and over again, the tendons attached to them suffer recurring micro-tears. the collagen in the tendons is gradually replaced by thick scar tissue that causes stiffness and pain.
Natural Treatment for Elbow Pain
Whichever ailment is afflicting your elbow, we're ready to come to your aid at Back On Track Chiropractic & Wellness Center. Our chiropractor in Birmingham, Dr. Duca, can evaluate not only the soft tissue damage but also any underlying factors that may have made you more vulnerable to such damage -- such as an unbalanced spinal alignment placing extra stress on your muscles and tendons. Once we have confirmed a case of tennis or golfer's elbow, we can prescribe the proper course of natural, non-surgical treatment for elbow pain. Your treatment may include:
Spinal adjustments to correct your alignment and posture
Extremity adjustments to improve mobility in the elbow
Physiotherapy to relieve pain and inflammation
Bracing or taping the elbow to keep it from getting re-injured
Exercises to strengthen and loosen your muscles
Get Non-Surgical Relief From Our Chiropractor in Birmingham, Call Us Today!
Whether you live on the tennis court or on the golf course, there's no reason your passion for the sport should leave you in chronic pain. Call (205) 942-4243 to schedule treatment for elbow pain from our chiropractor in Birmingham!